Supporting Sustainability for Future Generations Through a Pledge to Our Keiki
Posted on Apr 30, 2023 in Featured, Main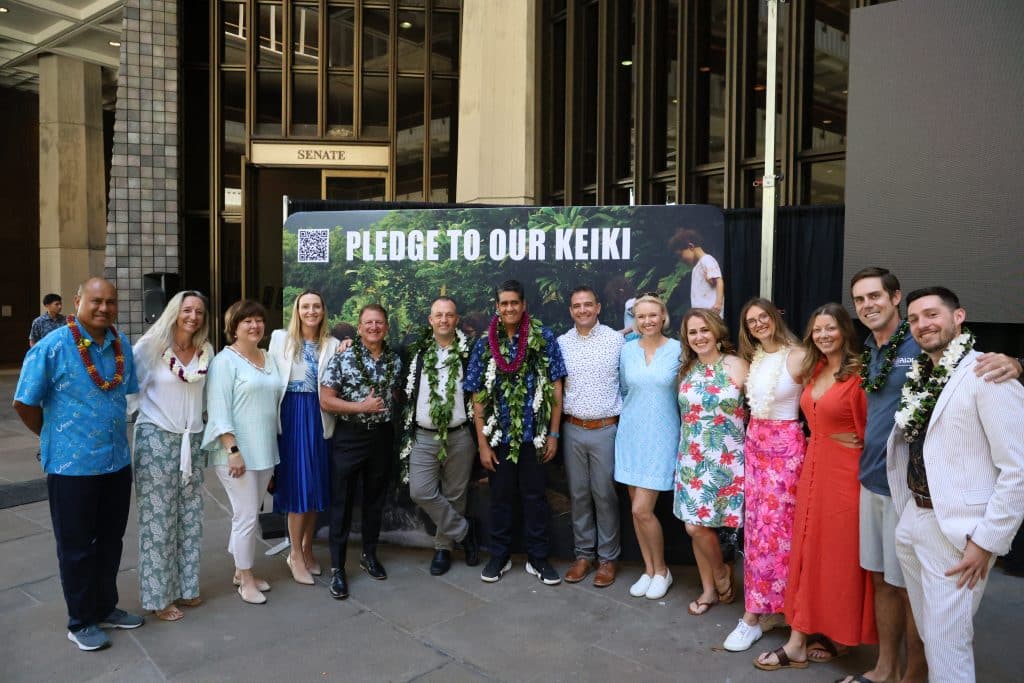 Governor Green, Palau President Surangel S. Whipps Jr., Honolulu Mayor Rick Blangiardi, EarthDay.org, Kanu Hawaiʻi, government and business leaders, and students from local schools joined together at the Hawaiʻi State Capitol on April 21 to sign the Pledge to Our Keiki. The Pledge was created by students statewide in the hope of sharing the message that Hawaiʻi is more than just a place to visit; it is an island home to many. It asks that people pledge to treat Hawai'i with respect and reverence to preserve our islands' future.
Modeled after the Palau Pledge, which was created to protect the environment of Palau, the Pledge to Our Keiki aims to provide Hawaiʻi with a way to better manage tourism responsibly and serve as a model of sustainability. It asks for everyone to be respectful of the environment and culture, and for all people to conduct themselves in a way that protects what makes Hawaiʻi so unique.
Evan Raskin, national campaign manager at EarthDay.org was in attendance and said, "We are uniting with stakeholders of all backgrounds to Invest in Our Planet for Earth Day and every day that follows. In Hawaiʻi, this is beginning to manifest in the Pledge to Our Keiki. When leaders across the islands uphold the pledge through bold climate policy, pollution remediation, and required environmental literacy in both public education and the tourism sector, they are building the foundation for a prosperous future that communities everywhere should emulate."
Through an agreement between non-profit Kanu Hawaiʻi and the Hawaiʻi State Department of Education, students were able to participate in volunteer events to benefit the environment, and teach social responsibility and promote service-learning opportunities.
After signing the pledge on April 21, the Governor's office followed through on its commitment on Earth Day, April 22, by participating with Aqualung, PADI, and numerous dive shops and community members in an attempt at the largest self-organized dive and beach cleanup at Ala Moana Beach Park. Hundreds of divers combed the waters for debris and brought it up for those on land to assist with disposal. Debris totaling more than 5,000 pounds was hauled away at the end of the event.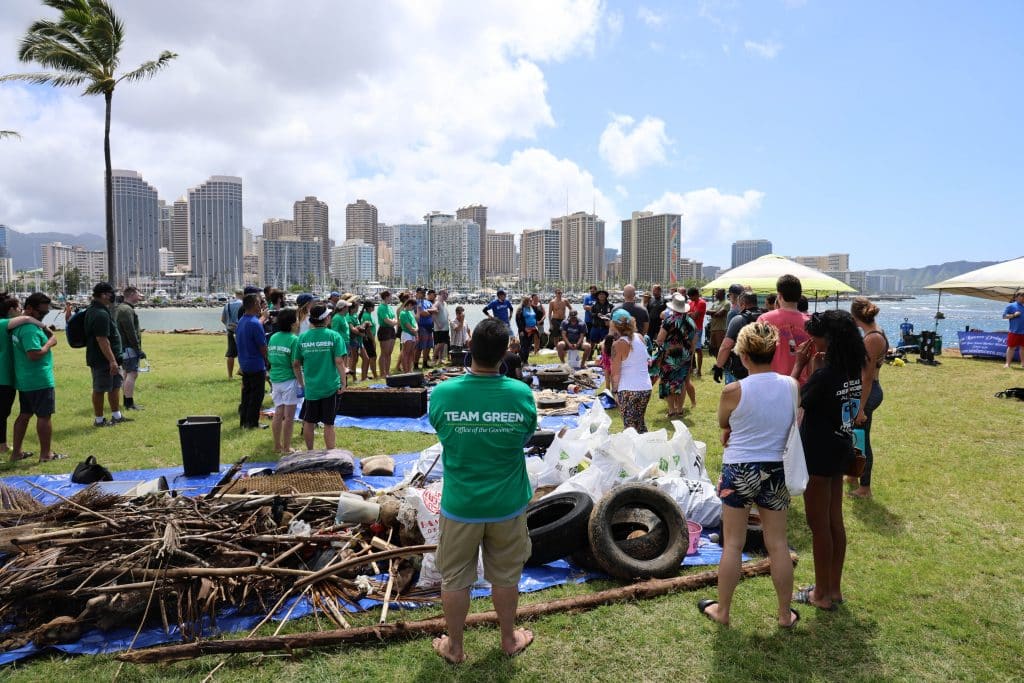 Teams also participated in cleaning the beach and various areas of the park. It is estimated that 2.42 tons of marine debris was removed, making for a much cleaner environment to be enjoyed by all.
See the Pledge to Our Keiki as written by Hawaiʻi students here: https://www.kanuhawaii.org/campaign/pledge-to-our-keiki/.